SHOPPING CENTERS, INTERIOR DESIGN
Text description provided by the architects. Time Fun -In CR8 , located in Panyu Guangzhou , China, is about to experimenton a new business model of shopping mall, curetail, which is usually composed of certain percentage of long-term tenantsand some short-term tenants or pop-ups. Through renewing stores or changing the pop up frequently, it always brings newand fresh experience to mall. The goal is to attract its main target customers --the Gen -Z , who always get bored soon andlove to pursue new unique adventures. Not only the changing shops but also interior art works, all together make the mall like gallery place where customer can always appreciate new art works in regardless of time flowing.Time Fun -In CR8 is the commer cial sectionof Times Fanghua (Guangzhou) Park of Times Business Group, located in Hanxi Wanbo Business District in the central axis of Guangzhou South Extension, covering Hanxi Chimelong Station on Metro Line 3 and 7; The total ofconstruction area of the complex is about 210,000 ㎡, consisting of 160,000 ㎡ Grade A office E-PARK and nearly 20,000 ㎡cultural business facilities. It is an urban space connecting nature and humanity, business and leisure, business, culture andsocial networking.
The mall is about 30,000 m2 with 4floors. Retail planning includes tenants mix and space planning. The operation team isresponsible for the tenants part and we plan the story . 6 sub-themes are planned based on space and function to createa story line of "lost in time"
1. across time: arrival 2. flowing time: walk in the space:
3. frozen time: waiting in lift lobby 4. beating time: time in theater
5.melt time: relaxing in toilet 6. growing time: outdoor at terrace
Different art works are installed based in the theme and will be changed on time.
ACROSS TIME--- entry, go back to childhood.
The big stair is the main entry with the huge and fun Mickey installations skating along it. People across it like going back to childhood. The color of interactive chandelier at the west entry changes during with day in different hour when people pass by indicating time flowing as well.
FLOWING TIME: walk in the space.
Space wise, to make more space for flexible use, even 4F floors is not very high , two atriums are created vertically, not like traditionally one atrium. 1-2f floor atrium is for festival celebration and 3-4F is planned as brand promotion or performance related events.A clean black and white background is chosen to create a sense of gallery which enables all kinds of pop up store /event changes . Water like suspended art work connecting 4F to 1F atrium as a backdrop of the performance/artwork in the space. This art piece will be curated to change based on the theme in different season.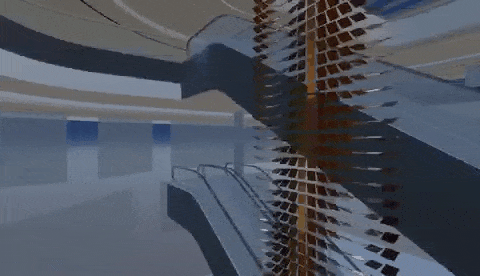 MELT TIME——toilet , relaxing and melt.
The rest room area is an area where people relaxing. Green tree, natural light and scent in the room makes people melt. The sculpture of the column provides a visual focus when people step in toilet zone. Artwork in the bathroom can be changed all the time address the curetail concept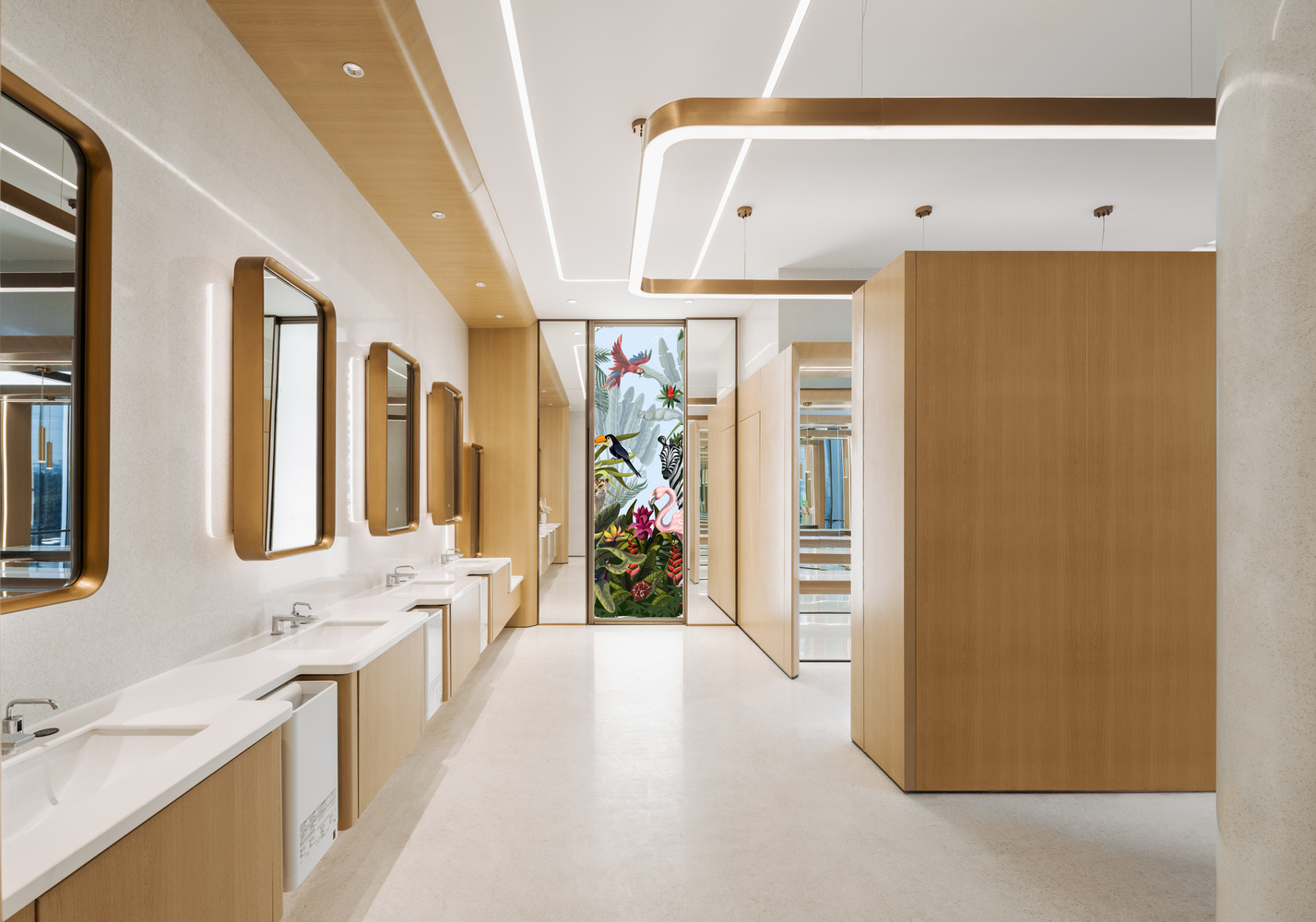 FROZEN TIME——lift lobby, time is frozen while waiting.
The inspiration is from sand clock. The bronze dots on the all of lift lobby represent the time that is frozen on the wall .
BEATING TIME——performance deck ,heart beating time.
The destination space like drama center on 4F provide a heart beating time for customers.The 3F atrium place is ideal deck for performance related events. Considering the limited space in the mall, it was left empty for future curated art event. it is not only a place for store but also a place to involve customers to experience.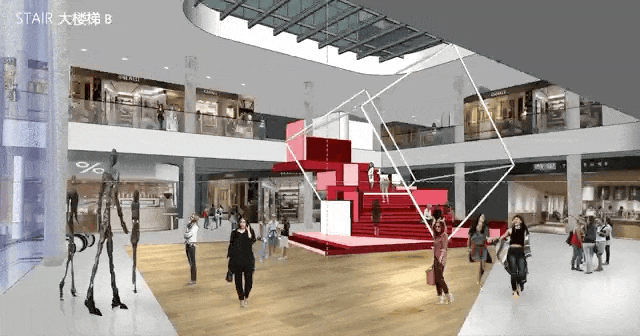 GROWING TIME——outdoor terrace, growing with nature.
The nice terrace is one of the biggest features of architecture. Retail experience /story should be continuous through outside to inside. By planning seating and installation /art work outdoor and along the window, customer can have a moment to stop and feel the nature in such a busy city and forget that they are walking in the mall. It is part he "lost in time"experiencewhen they merge into the green and grow with the nature.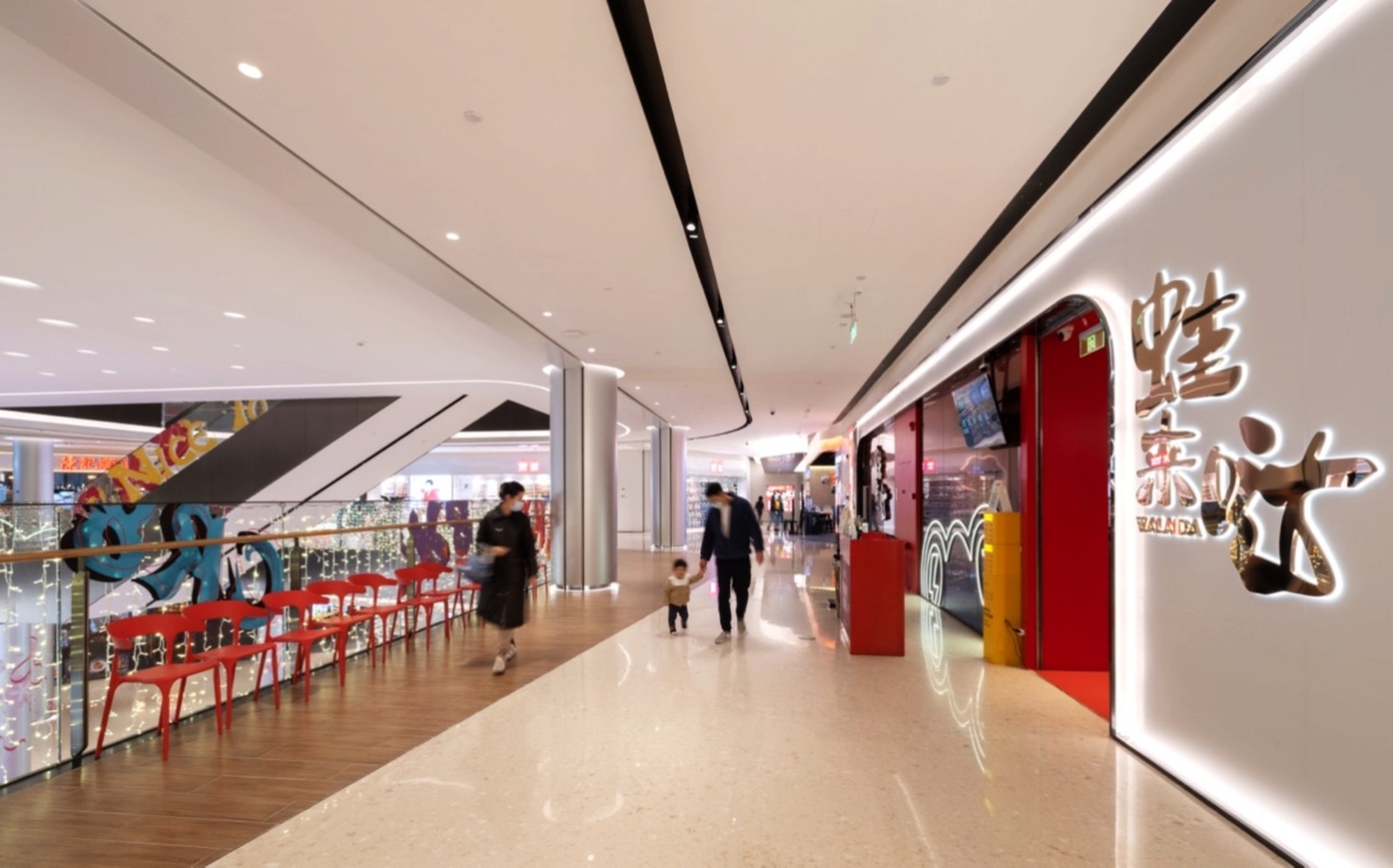 Clean , fresh , flexible , this mall is always full of fresh merged experience and events . we believe that is the trend of the future mall . Guangzhou CR8 is acting as a pioneer in retail and brings more energy in this neighborhood.
Project location
Address:Hanxi Road East, Zhonghan Street, Fanyu District, Guangzhou, China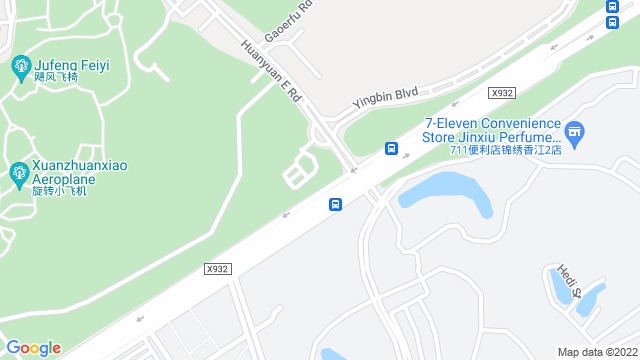 Published on August 31, 2022
Cite: "CR8 / DU Studio" 31 Aug 2022. ArchDaily. Accessed 10 Oct 2022.
<https://www.archdaily.com/979523/cr8-dustudio> ISSN 0719-8884
---
GUANGZHOU-CR8 IS PUBLISHED AT ARCHDAILY